Facebook is an abyss of cute animal videos, political tirades, memes, and nosy relatives. It's always been easy to scroll mindlessly through posts for way longer than intended... until now.
Recently the social media site changed its news feed algorithm. Now everyone from casual scrollers to marketers is trying to figure out what the heck going on.
Algorithms for Dummies
Facebook's news feed algorithm determines what you see and what order you see it in. Its purpose is to serve you content that you want to see and interact with, and erase the irrelevant stuff.
For example, if the algorithm labels you as a dog person, you'll begin to see more videos of your favorite furry friends pop up at the top of your feed.
Source: Giphy
In order to determine whether or not you're somebody who likes puppy videos, Facebook's algorithm uses four steps.
Taking Inventory.

Are there puppy posts in your feed? In this step, Facebook looks at all of the posts made by your friends, the pages you follow, and potential promotions.
Determining Signals.

Is a puppy post something that you would want to look at right now? Signals are all of the data that Facebook looks at to determine whether or not you may be interested in a story. There are thousands of signals, and they can include what time of day it is, your gender, who posted the story, how many people have interacted with it so far, and previous posts that you've interacted with.
Related Post: Crisis Communication 101: 4 Tips We Can Learn from Facebook
Making Predictions.

Are you going to like and share the puppy post? Using all of the previously collected data, Facebook determines how probable it is that you'll interact with a story in different ways. It will calculate the probability of the story being clicked on, liked, commented on, and more.
Calculating the Relevance Score.

How relevant is the puppy post to you compared to other posts? After all of this data is collected, it's synthesized and the post is given a relevance score. Posts with higher relevance scores are then shown toward the top of your newsfeed, and less relevant posts are bumped to the bottom.
The New Formula
Now that you know how algorithms actually work, let's talk about the new one. When he announced the change via Facebook post, CEO Mark Zuckerberg explained: "The balance of what's in news feed has shifted away from the most important thing Facebook can do – help us connect with each other."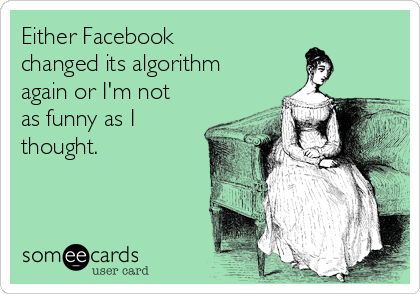 Source: Someecards
The hope is that the new system will make the site less of a "time waster" through lowering the passive consumption of massive amounts of content, and generating more meaningful interactions between people. To achieve this, Facebook is changing the algorithm to put more emphasis on these types of posts:
Content Produced by Friends and Family. If it's produced by somebody on your friend list, it will have a greater chance of being bumped up.
Timely Content. To keep up with the 24-hour news cycle, Facebook is emphasizing real-time posts. If your cousin posts about a real-time football game while you're browsing, it'll probably be at the top of your feed.
Content That Generates Interaction. Businesses with Facebook pages need not fear that their posts will be stuck at the bottom of the feed, unseen and unliked. Page content that is generating a lot of interaction and conversation will receive the coveted bump.
Related Post: How to Enhance Your Brand Using Social Media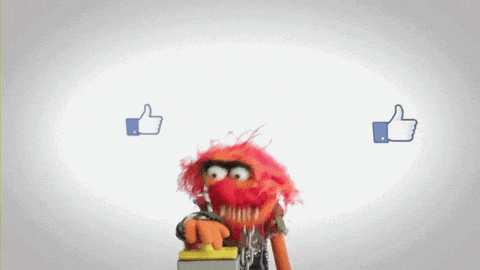 Source: Giphy
How to Take Advantage of the Change
The new format has left many marketers feeling anxious that they will lose an important platform for generating awareness. If you're one of them, you need not fear because with a few tweaks to your strategy, your Facebook page will be ready to take on the new algorithm.
Create a Feed That Emphasizes Quality Over Quantity. In the days of yore, creators and companies would post as much content as they could because the more they created, the more they were seen. With recent algorithm updates, however, creating posts that cause people to think, and thus share, comment on, and like are the key to Facebook success.
Interact With Your Audience. Another way to get your content seen is through creating posts that require audience interaction. For example, if you own a donut shop and are introducing a new flavor, ask the audience for name suggestions, then respond to them. The more comments you get, the higher up your post will be on your followers' feeds.
Try to avoid falling into the trap of clickbait posts (e.g. Comment on this post if you love doughnuts!). People don't like it, and Facebook will demote it.
Source: Neil Patel
Use Influencers. In the new Facebook environment, experts are predicting that there will be an uptick in the use of influencer marketing. This is because influencers are real people with real opinions that post for their own friends, family, and of course large audiences who enjoy that influencer's specific brand of content. Because they are people with personal accounts instead of brand pages, their posts are likely to be higher on the feed than a company page.
Related Post: The Ultimate Guide to Micro-Influencers [Gifographic]
Post More Live Videos. Live videos are still prioritized, and people who follow or like your page will often get a notification when you go live. Sticking with the doughnut business, you could give people a behind the scenes tour of your bakery, or host a doughnut eating contest.
Conclusion
Facebook marketing isn't going anywhere just yet. In order for your page to thrive, it's important to understand the latest algorithms and how to adjust your campaign accordingly. Happy posting!