There are an estimated 2.62 billion social media users worldwide. With an audience that large, it isn't easy to get your brand's name out there. And complex algorithms, like Instagram's, can make things even harder.
Ah, the Instagram algorithm - you either love it or hate it. It took the digital world by storm in 2016, causing an outcry among those (including myself) who were worried their posts would no longer be seen. Influencers started encouraging their followers to click the "post notification" button in hopes their engagement would stay up. Smaller accounts worried that the bigger accounts would overshadow them, making them no longer relevant.
The everchanging Instagram algorithm continues to transform our feeds. For better or worse? I'll let you decide.
Life on Instagram: Before the Change
Before the Instagram algorithm change, posts would show up in the order they were shared. After the change, posts were no longer sequential. Now when you scroll through your feed, you can see a post from two days ago followed by a photo that was posted two minutes ago.
So, what was the catalyst for the change? Engagement. Organic engagement is the key to success on Instagram. But because of the way the algorithm works, it can be hard for accounts with smaller followings to get noticed.
Related Post: How to Enhance Your Brand Using Social Media
Love it or hate it, you have to work with the algorithm, not against it.
Engagement, Engagement, Engagement
Ever since Instagram's algorithm changed, you may have noticed you're getting a lower rate of engagement. That's because only an estimated 10% of your audience is actually seeing your posts. When Instagram ditched the chronological newsfeed, receiving engagement became more important than ever. With an algorithm that isn't chronological, engagement is everything.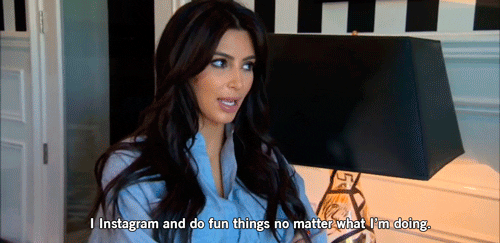 Source: Giphy
Compared to other social media platforms like Facebook and Twitter, Instagram reels in the highest engagement. That's because Instagram prioritizes engagement worthy posts. How high your post shows up on someone's feed depends on how fast your post draws engagement from others. Much like Facebook, Instagram's algorithm shows users content they want to see most, based on past interactions and engagement.
However, this means some posts will not be prioritized and could go unseen. On average, we miss 70% of the content in our Instagram feeds. When you post a photo, Instagram will show your post to a small percentage of your followers first. If it receives more engagement than your average post, Instagram will show it to even more of your followers.
Related Post: User Engagement: What Is the Participation Pyramid?
This goes on for a few hours, but after your post stops receiving engagement, the algorithm essentially kills your post, meaning it will no longer show up on your followers' news feeds or the Explore Page.
Strategic Content Is Key
Have you ever noticed that the posts you see first, correspond with your interests? Instagram needs you to scroll on the app for as long as possible, so the algorithm shows you posts you'll want to see.
For example, if you follow a lot of makeup accounts and have a history of liking or commenting on makeup posts, Instagram is going to push similar posts to the top of your feed (and, you might see similar posts from accounts you don't follow on your Explore Page.)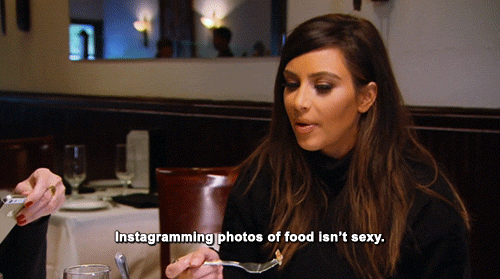 Source: Giphy
Strategically posting content at the right times will help you boost your engagement, too. Use the Insights Feature to see the most active times for your followers and plan accordingly. Focus on your ideal followers and post pictures your followers will want to see.
Related Post: How to Never Run Out of Social Media Content
If you run a travel Instagram, you'll probably want other travelers to follow you. Post pictures of your own adventures and travels, and you'll attract followers with the same interests. Be consistent with your theme and only post your best content.
Use All Available Features
Instagram provides some efficient features that you can use to grow your account. To get your engagement rates up, use some of these outlets.
Instagram Stories. With roughly 300 million users daily, Instagram Stories has almost doubled that of Snapchat users! Instagram Stories is another great way outside of regular posts to connect with your audience.
Polls. In Instagram Stories, there's a 'polls' feature that allows your followers to interact with your content. When your followers participate in your poll, Instagram will notice. If a follower sends your story to someone else, Instagram also takes note of that, too.
Location Tags. Location stories appear at the top of the Explore Page, where you can see stories from users in your geographical area. Using Location Tags in your Instagram Stories is an effective way to get noticed by people who don't follow you. Posts are grouped by location on the Explore Page or when searched, so others in your geographic area (or searching for your area) will also be able to find your posts.
Insights Tool. Instagram offers an insights tool to business accounts, which allows you to see your best posts, how many people have visited your profile, and how many accounts you've reached. You can also see your followers' demographics including gender ratio, age range, and location, along with the prime times and days they will be online. If you post when most of your followers are online, there's a better chance that they will see your post and will be more apt to engage with it.
Brand Hashtags. Use hashtags that are relevant to your brand. They can also include your brand name. For example, Kim Kardashian's beauty line uses the hashtag #KKWBEAUTY, and others who use her products do, too. This is a great way to organize all of your content (and customers) into one place.
Content Hashtags. Hashtags directly related to the content in your post are another option. If you're sharing a fashion post of your outfit, you could use #ootd.
Hashtags in Your Niche. Hashtags related to you and your brand. If you are in the beauty industry as a makeup artist, #mua or #beautygram would be appropriate.
Trending Hashtags. When a lot of users use a particular tag, it becomes 'trending.' Trending hashtags can last a few hours to a couple days, and always garner a lot of attention. The only downside is that you'll be competing with loads of posts.
There's no comprehensive strategy for getting noticed on social media; most of it is just trial and error. Create a strategy that is unique to you and your brand, and be consistent with it. Make Instagram work for you. With 800 million users, your audience is almost endless, so take advantage of it!